DOCUMENT

GENERATION SOFTWARE

FOR


BUSINESS USERS
Create business documents from Enterprise apps, Databases, and JSON-XML-XLSX data. Save time and money. Improve customer communications.
GENERATE FROM EXISTING TEMPLATES
Create error-free proposals interactively or in bulk. Automate proposal creation from your CRM by integrating it.

Generate invoices in bulk from Excel/JSON/XML data and auto-send them to individual recipients from your business email.

Automate contracts generation from template documents and route them for E-Sign. The system integrates with all major E-Signature providers.

Generate loan packages by populating multiple loan document templates with a single data file or form input in one-go
Generate letters fast from pre-approved existing templates and auto-send them to respective recipients.

| | |
| --- | --- |
| | SOW, REPORTS, RECEIPTS... |
Bring your template and generate documents - SOWSs, Reports, Receipts, etc. by populating them with data.

Use Own Custom Templates




DIY Template Creation: Dynamically fill text, tables, images, Barcodes, QR Codes, content blocks (paragraphs), hyperlinks, etc. to existing templates. Just need to add the relevant tags to the templates. You can also add conditions (if-else), loops, and calculations.

Adding tags for Microsoft Word and fillable PDF templates is straight-forward. For read-only PDF templates, edit them in your favorite editors for adding tags.

Template Management: A central repository of all approved templates for better compliance and brand governance. Only authorized personnel can upload and delete templates.

Populate Data

Form to Documents: EDocGen auto-generates fillable form for populating dynamic fields

Data to Documents: Merge templates with JSON-XML-Excel data to create documents

Database to Documents: Automate reports, letters and invoices generation from Oracle, SQL Server, MySQL, MongoDB, etc.

Enterprise Apps to Documents: Auto-generate business documents from ERP, CRM, SCM, etc

Document Generation - PDF, Word, HTML & Images


Generate documents in PDF, HTML, JPG, and DOCX formats and distribute them through email, cloud storage, E-Sign, and print.

Save development time: Integrate with document generation API to automate document generation from Enterprise apps and databases.

Automate document workflow: Connect to 1000s of apps, and databases through Zapier and Tray integration

SECURE DOCUMENT GENERATION PROCESS
Hosted on Google Cloud with Enterprise Security

Fine-grained authentication and authorization mechanism. Add multiple users and assign roles.

SOLUTIONS



Greatly improves the speed and accuracy of document creation in your business.
Shorten cycle times and improve customer communications management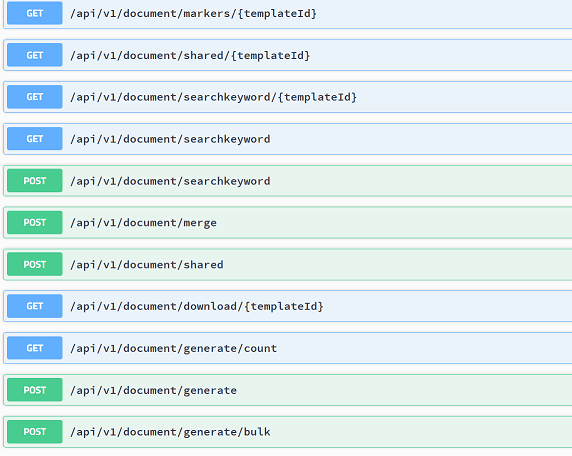 Document Generation from Thousands of Apps
On-Demand Generation: Integrate with CRM, ERP, and back-office apps for on-demand document generation using REST API, Zapier and Tray integrations.

Interactive Generation: Fill auto-generated data capture form (Web form) for interactive document generation. You can save partially filled forms as drafts.

Batch or Bulk Generation: Populate Excel, XML, and JSON data into a template for bulk document generation

ACCELERATE PRODUCTIVITY



Highly flexible system for generating every business document type in PDF, HTML, Word, or JPG formats.
Addresses the entire organization's document automation needs.

Control Document Output

Control final document output using conditional logic and arithmetic operations. You can also dynamically control image and text sizes in generated documents.

Document Packages

Populate multiple templates with a single data file for creating document packages in one go. The system auto-fills similar fields across templates with the data.

Collaborative Document Generation

Populate multiple data files or form inputs sequentially into a template. Share partially filled templates as online form for final document creation.
Privacy Policy Terms of Service

Copyright 2019-2023 EDocGen LLC . All Rights Reserved.