AUTOMATE BUSINESS




DOCUMENTS GENERATION AND DISTRIBUTION



Digitally transform enterprise-wide document-related processes for improving customer communications and experience. Fastest business user-friendly system.
DOCUMENT AUTOMATION PROCESS
Batch generates thousands of documents from various data sources - JSON/XML/Excel, databases, and enterprise apps in a few seconds.

The system auto-generates data capture forms (Webforms) from templates. Use these online forms to create filled-in documents.

Integrate with REST API to empower your users to download statements in real-time from the device of their choice.
Personalize customer communication through several channels including Email, e-Sign, print, etc. to create a consistent, engaging experience.

The solution is designed to be deployable on the cloud and on-premises. It is cloud-agnostic and can be deployed on Azure or AWS.

Integrations with OneDrive, Azure Active Directory, SharePoint, and PowerApps allow you to run the entire system within the Microsoft environment.

"Upload our template and have it auto-populate based on our data line items per client specifications is a huge time saver."
Microsoft Office and PDF Templates
Use Existing Templates




DIY Template Creation: Dynamically fill text, tables, images, Barcodes, QR Codes, content blocks (paragraphs), hyperlinks, etc. to existing templates. Just need to add the relevant tags to the templates. You can also add conditions (if-else), loops, and calculations.

Adding tags for Microsoft Word and fillable PDF templates is straightforward. For read-only PDF templates, edit them in your favorite editors for adding tags.

Template Management: A central repository of all approved business templates for better compliance and brand governance. Only authorized personnel can upload and delete templates.

Populate Data

Forms: The system auto-generates fillable forms from PDF and Word templates. Filling of these dynamic form fields creates documents.

Structured Data: Merge templates with JSON-XML-Excel data for data-driven document generation.

Databases: Template-based document automation from Oracle, SQL Server, MySQL, MongoDB, etc. database records.

Enterprise Apps: Auto-generate business documents from ERP, CRM, SCM, and other applications.

Document Generation - PDF, Word, HTML & Images


Generate documents in PDF, HTML, JPG, and DOCX formats and distribute them through email, cloud storage, E-Sign, and print.

Save development time: Integrate with API to automate document generation from custom apps, portals, and databases.

Automate document workflow: Connect to 1000s of apps, and databases through Zapier and Tray integration.

SECURE DOCUMENT GENERATION SOFTWARE
Hosted on Google Cloud with Enterprise Security

Fine-grained authentication and authorization mechanism with audit trails.

Documents from Apps, Databases, and JSON-XML-XLSX Data



Greatly improves the speed and accuracy of document creation in your business.
Shorten cycle times and improve customer communications management.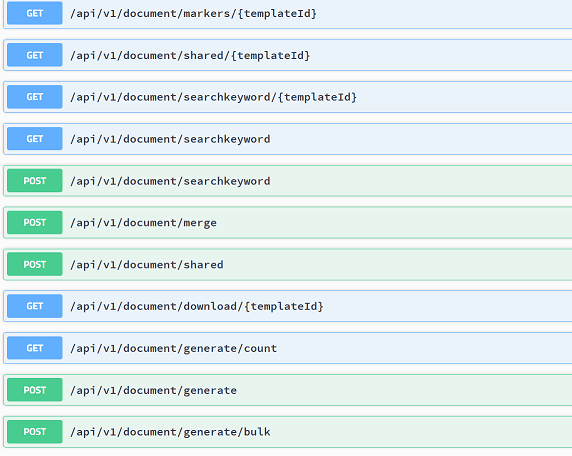 Flexible Document Generation Process
It is a flexible system for generating documents from very simple to complex templates. Thus, the document automation solution caters to every line of business - Sales, Operations, HR, and Accounts.

Assemble this enterprise document generation micro-service with other micro-services for digital transformation. Embrace digital for new growth opportunities and business model innovations.

IMPROVE BUSINESS PRODUCTIVITY



Data-driven document automation solution that increases team productivity by >90%.

High Volume Document Production

Reliable document generation solution that instantly scales as business needs dictate. Use document assembly to generate complete document packages.

Fillable Word and PDF Forms
The system auto-generates data capture forms from custom templates. Interactively generate documents by filling out these web forms.

Document Workflows

Integrate document generation software with front-office and back-office apps for creating document workflows.

Control Document Output

Control final document output during the document generation process using - conditional logic, data filters, page breaks, and image sizes.
Document Packages

Populate multiple templates in one go instead of the individual population. Create document packages by reusing fields across templates.
Multiple Data File Population
Populate several data files into a template till you create the desired output document. The system creates drafts till final document creation.

@ EDocGen LLC 2022 . All Rights Reserved.