DIY DOCUMENT

GENERATION SOFTWARE

FOR


BUSINESS USERS
Create business documents from Enterprise apps, Databases, and JSON-XML-Excel data. Distribute the created documents through Email, Print, E-Sign, or Cloud storage.
IMPROVE PRODUCTIVITY IN DOCUMENT PRODUCTION



Addresses the entire organization's document automation needs. Increases productivity by >90%

Bulk Document Generation

Populate Excel, XML, and JSON into a template for creating documents in batch. You can also populate databases Oracle, SQL Server, and MySQL.
Fillable Word and PDF Forms

The system auto-generates data capture forms from templates. Interactively generate documents by filling these web forms.

On-Demand Document Generation
EDocGen is API first product with a well-defined REST API. Integrate it with CRM, ERP, and back-office apps for document workflow.
Control Document Output

Control final document output using conditional logic, data filters., page breaks, and line breaks. You can also dynamically control image and text sizes.
Document Packages

Populate multiple templates in one go instead of the individual population. Create document packages by reusing fields across templates.
Sequential Data Population
Populate multiple data files sequentially into a template till you create the desired output document. The system creates drafts till final document creation.
Use Existing templates




DIY Template Creation: Dynamically fill text, tables, images, Barcodes, QR Codes, content blocks (paragraphs), hyperlinks, etc. to existing templates. Just need to add the relevant tags to the templates. You can also add conditions (if-else), loops, and calculations.

Template Management: A central repository of all approved templates for better compliance and brand governance. Only authorized personnel can upload and delete templates.

Template Organization: Organize templates into folders for better manageability. You can create multi-level folders.

Populate Data

Form to Documents: EDocGen auto-generates fillable form for populating dynamic fields

Data to Documents: Merge templates with JSON-XML-Excel data to create documents

Database to Documents: Automate reports, letters, and invoices generation from Oracle, SQL Server, MySQL, MongoDB, etc.

Enterprise Apps to Documents: Auto-generate business documents from ERP, CRM, SCM, etc

Document Generation - PDF, Word, HTML & Images


Generate documents in PDF, HTML, JPG, and DOCX formats and distribute them through email, cloud storage, E-Sign, and print.

Save development time: Integrate with REST API to automate document assembly from Enterprise apps and databases.

Automate document workflow: Connect to 1000s of apps, and databases through Zapier and Tray integration

GENERATE FROM EXISTING TEMPLATES
Create error-free proposals interactively or in bulk. Automate proposal creation from your CRM through API integration.

Generate invoices in bulk and auto-send them to individual recipients from your business email. With Excel, create multiple lines in the invoice table.

Populate contract templates to create contracts and send them for E-SIgn. The system integrates with all major E-Signature providers.

Cut down turn-around time in sending receipts to customers. Send them on-demand as soon as a sale is made.

Generate letters fast from pre-approved existing templates and auto-send them to respective recipients.

Bring your template and generate SOWSs, Reports, etc. through fillable forms. You can share the secure URLs of those forms with the external audience.

Generate loan packages by populating multiple loan document templates with a single data file or form input in one-go
Automate generation of HR documents such as offer letters, bonus letters. You can also automate the creation of resumes from your HRMS.

Generate complex documents such as broker renewal terms with policy clauses, on the click of a button.

SECURE DOCUMENT GENERATION
Hosted on Google Cloud with Enterprise Security

Fine-grained authentication and authorization mechanism. Add multiple users and assign roles.

SOLUTIONS



Greatly improves the speed and accuracy of document creation in your business.
Shorten cycle times and improve customer communications management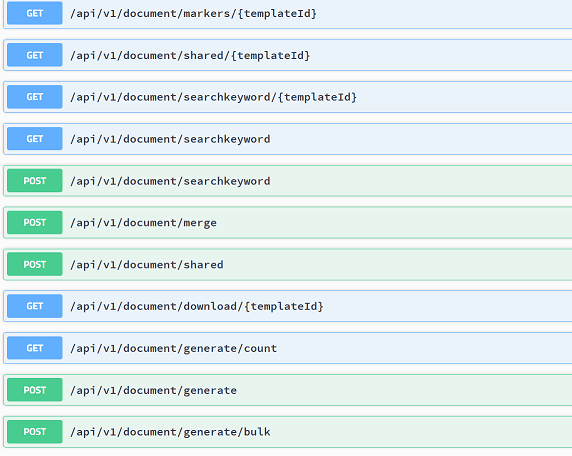 Higher ROI



EDocGen document automation software can help your company save time and money in business document creation.

A single, central repository maintains company assets including templates. This improves collaboration across your Enterprise and standardizes customer communications.

Give a try to see how the system delivers a great ROI.