EDocGen is the fastest and simplest document generator software. In few clicks, convert existing document into template and fill it with data to generate documents individually or in batch.
Excel : Say goodbye to tedious limited functionality mail merge. Merge vertical & horizontal orientation of excel data, many to one mail merge, population of multiple word tables, dynamic images into word templates
XML : XML is the universal standard for data interchange and often times you find need to merge XML data into word document template. EDocGen is the easiest way to merge your XML data into word template for making it readable and for making it brand compliant.
JSON : Document databases such as MongoDB use JSON documents for storing records. EDocGen is perfect solution to auto fill JSON data into document templates.
Web-Forms: EDocGen auto-generates fillable form from word template for entering dynamic fields' values. Filling documents through this approach, improves productivity by 70-80%. Fill it once, and the system populates all multiple occurrences of that field in the document.
Using EDocGen document generator, generate your documents in three simple steps:
1) Create document template from existing document at the speed of a few clicks (few seconds!)
2) Auto Fill templates with Excel/XML/JSON data to generate documents
3) Distribute them through multiple delivery options including email, e-sign, mail merge etc.
Step1 : Upload Document
Upload Documents by clicking '+' sign at right bottom of the "Upload Documents" screen. Click on pop-up screen's selection area to select document from local machine. After selection, click upload button. Upload accepts only docx files.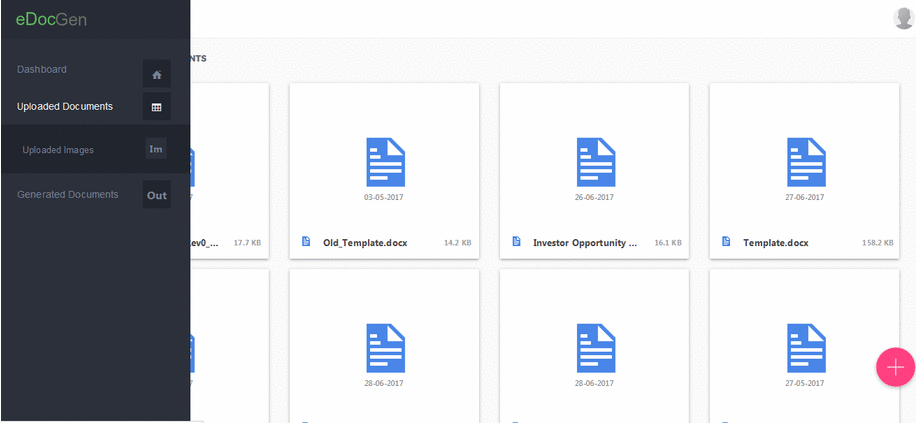 Step 2: Convert to Template
If document is not template ready, use editor for converting it to document template in few clicks. Alternatively use "help" in editor screen to know how to go about adding tags manually.
Clicking on "Edit Document" action button opens editor screen. Click on the location/field where you want to place dynamic field and select appropriate tag generator from menu i.e. Text Marker/Image Marker/Table Marker. Enter details in the pop-up screen and click ""ok"" to add tag. After adding tags, click submit button to generate template. You can use that for all future document generations.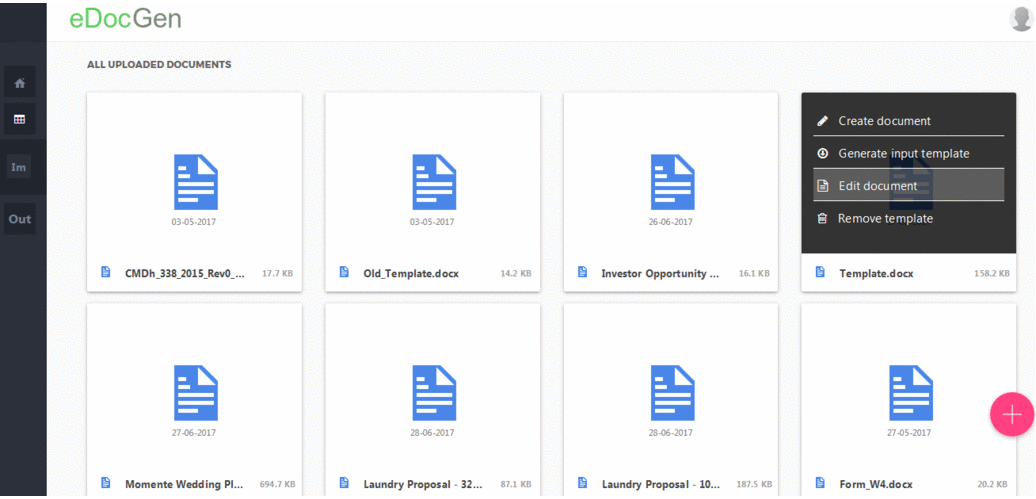 Step 3: Generate Document
Click on create document button on document to open input capture screen. There are two options to fill document template.
1. Auto-generated data input form
2. Option to upload Exel/XML/JSON for sequentially populating template
Once the document generated, system prompts you to enter file name. In case you are generating a single file through fillable form, file would be downloaded in docx format. If you are auto filling Excel/XML/JSON data to generate multiple document then generated documents would be downloaded in zip format.
Step 4: Document Delivery
Download generated documents from "Output folder".Generated documents can be synced to Google Drive, emailed or downloaded.

eDocGen document generator is the best solution users would ever need for fast, accurate and safe document creation. It is hosted on Google Cloud Platform and all documents generated by the software are protected with strong encryption and authentication. Say goodbye to typos, misplaced or lost information, and blank fields. eDocGen document generator is built to make sure you produce precise and pristine documents every single time. Register to see document generator in action.